Hawaiian Shirt Collection
The Aloha Shirt, colloquially known as the Hawaiian shirt, is more than a mere piece of clothing; it's a cultural emblem that has stood the test of time. Originating from Hawaii in the 1920s or 1930s, this iconic attire encapsulates a blend of tradition and modernity. Structurally, it is a collared, buttoned, and usually short-sleeved shirt crafted from printed fabric. Traditionally worn untucked, it serves as both casual and informal business attire in Hawaii.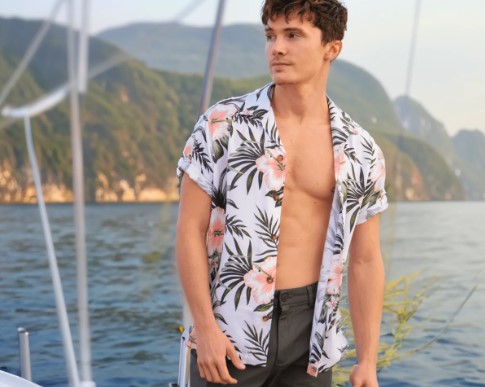 What distinguishes the Aloha shirt is its rich history and symbolism. Its origin story is a tapestry woven from multiple cultural threads, involving Japanese, Filipino, and Chinese immigrants, in addition to native Hawaiians. While the textile industry argues about its definitive origin—be it Kōichirō Miyamoto's "Musa-Shiya the Shirtmaker" or Ellery Chun's "King-Smith Clothiers and Dry Goods"—what's undisputed is its impact on fashion and local culture.
Design-wise, the Aloha shirt is a marvel of both form and function. The shirts usually feature a chest pocket sewn in such a way that the printed pattern remains continuous, a testament to attention to detail. While the traditional designs stick to Hawaiian quilt patterns and tapa designs, contemporary versions have evolved to include motifs like palm trees, drinks, and surfboards.
"Aloha Friday," a concept that began as an effort to promote these shirts, has permeated workplaces globally under the moniker "Casual Friday." This cultural export highlights the Aloha shirt's transformative power; it changed the fabric of workplace attire, quite literally.
The garment also plays a role in social identity. Locals initially considered the vivid colors and patterns as "too wild," while tourists embraced them, underscoring the nuanced relationship Hawaiians have with the garment. This has led to variations like the "reverse print," where the shirt is printed on the interior to mute the colors on the exterior.
The Aloha shirt's journey from a localized cultural icon to a global phenomenon speaks volumes about its adaptability and enduring charm. Over the years, it has become an industry in itself, contributing significantly to Hawaii's economy. More importantly, it has become a symbol of Hawaii's unique blend of cultures and an ambassador of its Aloha spirit, demonstrating that a shirt can indeed be more than just a piece of fabric.
Halloween Hawaiian Shirt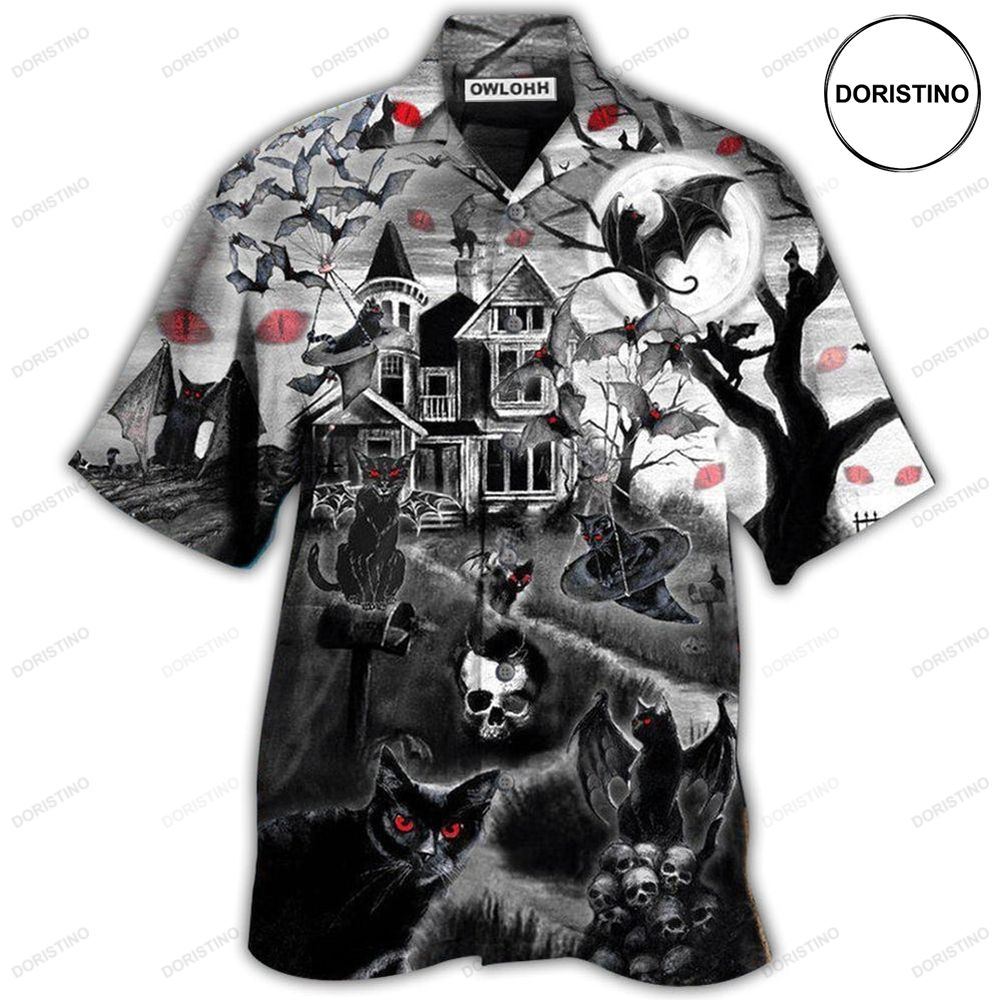 The Halloween-themed Hawaiian shirt brings together the laid-back, tropical vibes of the classic Aloha shirt with the spooky and whimsical elements of Halloween.
Traditionally made of lightweight, breathable fabric, these shirts feature short sleeves and a collared design, ideal for both casual outings and informal business settings. What sets the Halloween Hawaiian shirt apart are its unique prints: think jack-o'-lanterns nestled among palm leaves or skeletons riding surfboards. This fusion of island relaxation and Halloween festivity makes for a truly unique garment that stands out in any setting. Whether you're attending a Halloween party or simply wish to add a playful twist to your Friday casuals, the Halloween Hawaiian shirt serves as a sartorial expression of joie de vivre with a side of spookiness.
Anime Hawaiian Shirt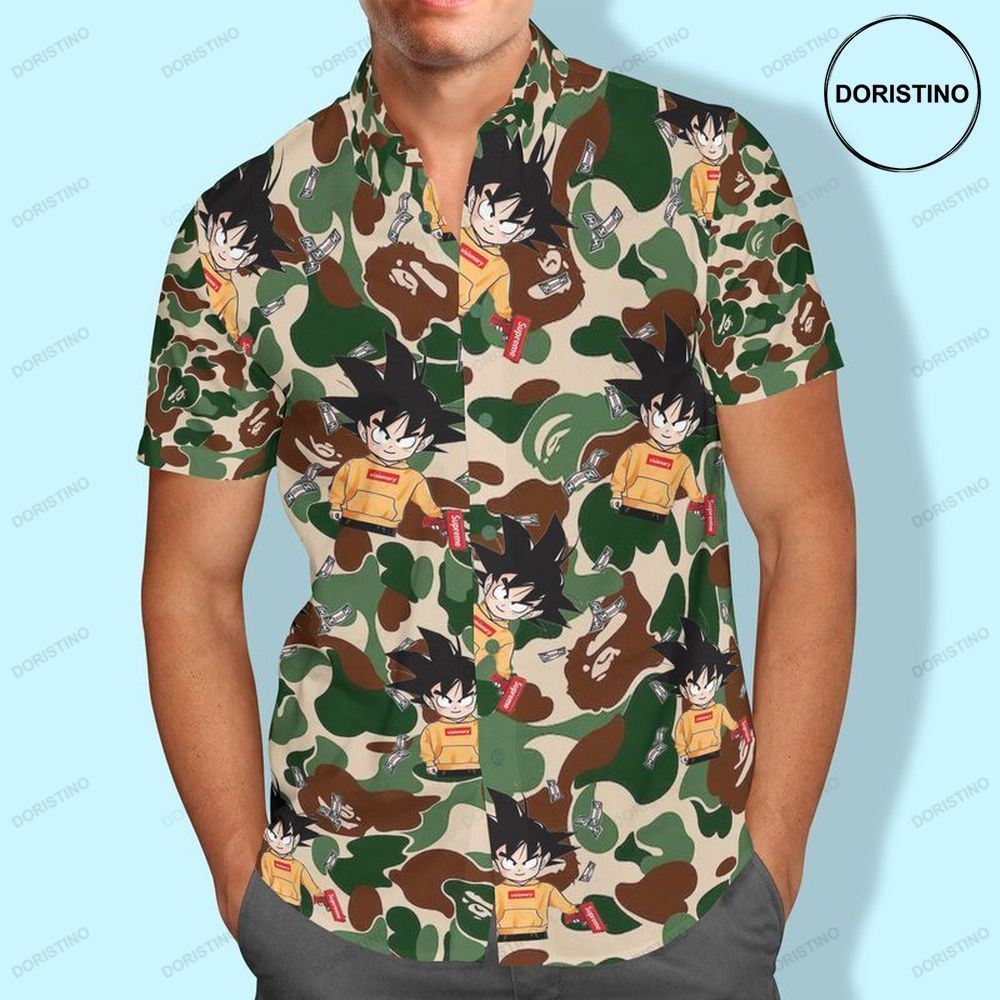 The Anime-themed Hawaiian shirt is a unique fusion of traditional island fashion and Japanese pop culture, resulting in a garment that resonates with fans of both worlds. The shirt maintains the casual, easy-going design elements of a classic Aloha shirt—lightweight fabric, short sleeves, and a collared, button-down front. However, it differentiates itself through its intricate anime-inspired prints, often featuring iconic characters and motifs from popular anime series. Whether it's a spirited Naruto pattern woven among palm leaves or a subtle Studio Ghibli backdrop, these shirts offer a unique form of self-expression that transcends cultural boundaries. Perfect for anime conventions, casual Fridays, or any setting where pop culture is appreciated, the Anime Hawaiian shirt captures the essence of relaxation while paying homage to the expansive world of Japanese animation.
Certainly, let's elaborate on what sets Doristino's collection of Hawaiian shirts apart from the rest.
At Doristino, we understand that fashion is a form of self-expression. That's why we've curated a diverse and extensive collection of Hawaiian shirts, ensuring that there's something for everyone. What makes us unique? Our range goes beyond the traditional floral and tropical patterns commonly associated with Hawaiian shirts. Instead, we tap into various cultural zeitgeists to offer you an array of choices that resonate with different audiences.
For the sports enthusiasts among us, our Hawaiian shirts feature officially licensed designs from both NFL and NBA teams. Imagine catching the big game at a barbecue or sports bar, standing out from the crowd in a Hawaiian shirt adorned with your team's logo and colors. It's a fusion of laid-back island style with the competitive spirit of American sports.
But that's not all. Are you a die-hard music fan? Our line-up also includes shirts emblazoned with iconic rock and pop bands, perfect for your next concert or just jamming out with friends. These aren't just articles of clothing; they're conversation starters, a way to connect with fellow fans and express your musical taste in a visually compelling manner.
Furthermore, we offer shirts that are themed around various tours and special events, ensuring that you can commemorate those memorable moments in a style that's uniquely yours. From cultural festivals to special edition collaborations, we keep our collection fresh, trendy, and diverse.
So, whatever your interests may be, Doristino's extensive selection of Hawaiian shirts offers an unprecedented level of variety, allowing you to express your personality down to the last detail. We invite you to explore our eclectic range and find the perfect Hawaiian shirt that speaks to you.